Dress Patterns

08Q - Girls 3 Tier Dress

A pretty 3 tier dress with plain neckline short sleeves, back zipper.

08Q - Girls 3 Tier Dress

Sizes: 12mo-18mo-2T-3T-4-5-6-7-8-10

$ 10.00

10F1 - Girls "Plain and Full" Dress


This is the dress you have been looking for! Simple classic style dress with a fuller and longer skirt. Underskirt included. Sash, and Peter pan collar. Short or long sleeve option with cuff. Back zipper, hidden side seam pockets

10F1 - Girls "Plain and Full" Dress
Sizes: 2T - 3T - 4 - 5 - 6 - 7


$10.00

10F2 - Preteen "Plain and Full" Dress


This is the dress you have been looking for! Simple classic style dress without darts and a longer and fuller skirt. Underskirt included. Peter pan collar, short or long sleeve with cuff. Back zipper, hidden side seam pockets.




10F2 - Preteen "Plain and Full" Dress
Sizes: 8 - 10 - 12 - 14 - 16


$ 10.00
10G Girls Ruffle Placket Dress


Full button-front dress without darts. Bodice has a false placket, edged with self-ruffle. One piece Peter Pan collar with self-ruffle. Short gathered sleeves with slipover cuffs, edged with self-ruffle. Hidden side seams pockets.

10G - Girls Ruffle Placket Dress

Sizes: 2T-3T-4-5-6-6x-7-8-10-12-14-16


$ 10.00

A carefree and roomy pullover style dress; cap sleeves and ruffled tiers; side seam pockets and a breeze to put together.







28A - Women's Cap Sleeve Float


Sizes: S - M - L - XL - 2XL - 3XL

$ 10.00

28D Women's Hi-waist Pleat Dress


Here is another quick and easy dress; pul over style with pleated skirt, cuffed short sleeves or tapered long sleeves, hidden side seam pockets.

28D - Women's Hi-waist Pleat Dress

Sizes 4 - 8 - 12 - 16 - 20

$ 10.00

308A - Women's Jewel Neck Dress



The jewel neck dress is collarless. Bodice is a slight empire, shaped with darts and a button-back belt, to insure a good fit. A pleated front skirt and gathered back skirt make a pretty silhouette. Back zipper; side seam pockets. This pattern includes both long and short sleeve options.




308A - Women's Jewel Neck Dress


Sizes: 2-4-6-8-10-12-14-16-18-20-22-24-26-28


$ 10.00
308C-D Girls & Preteen Jewel Neck Dress


Empire waist, pleated skirt, back zipper, jewel neckline, and French cuffs that can grow with your child. Long and short sleeve option. Optional pretty patch pockets for child's dress.




308C-D - Girls & Preteen Jewel Neck Dress

Sizes: 2T-3T-4-5-6-6x-7-8-10-12-14-16


$ 10.00

402A - Women's Lace Collar Dress


Empire dress with delicate lace overlay collar. Bodice is shaped with darts and back ties to insure a good fit. Back Zipper. About 51" long. Includes both short and long sleeve.




402A - Women's Lace Collar Dress


Sizes: 2-4-6-8-10-12-14-16-18-20-22-24-26-28


$ 10.00

402B - Girls Lace Collar Dress


European length dress with delicate lace overlay at collar. Back zip and tie sash. Includes both short and long sleeve.











402B - Girls Lace Collar Dress

Sizes: 2-3-4-5-6-7-8


$ 10.00

402C - Preteen Lace Collar Dress

European length dress with delicate lace overlay at collar. Back zip and tie sash. Includes both short and long sleeve.




402C - Preteen Lace Collar Dress

Sizes: 10-12-14-16


$ 10.00
404B Preteen Square Neck Dress

Pullover square neck dress with Basque waistline, bodice darts and back ties to insure a good fit. European length to fall just below midcalf. Back zip and side seam pockets. Includes both short and long sleeve.







404B - Preteen Square Neck Dress

Sizes: 10 - 12 - 14 - 16


$ 10.00

406C - Girls Pinafore Dress

This is the ever popular, two fabric combination dress for any occasion! Short and long sleeve option. Zipper closure or a buttoned back bodice; tie belts; underskirt with ruffle.




406C - Girls Pinafore Dress


Sizes: 2 - 3 - 4 - 5 - 6 - 7 - 8 - 10 - 12 - 14 - 16

$ 10.00
408B - Women's Drawstring Dress

Soft pleats fall from a slightly empire waistline that adjusts with a drawstring. Easy pullover style; short sleeve, hidden side seam pockets. Elegant long length of 51".

408B - Women's Drawstring Dress

Sizes: 2 - 4 - 6 - 8 - 10 - 12 - 14 - 16 - 18 - 20 - 22 - 24 - 26 - 28

$ 10.00

408A - Girls Empire Dress


Graceful soft pleats fall from an empire waist to an elegant ballet length and pretty ruffled pockets. Easy pullover style. Includes both short and long sleeve.





408A - Girls Empire Dress

Sizes: 2T - 3T - 4 - 5 - 6 - 7 - 8

$ 10.00
408C - Preteen Empire Dress

Graceful soft pleats fall from an empire waist to an elegant ballet length. Back zipper. Side seam pockets, back ties and long or short sleeve option. (Patch pockets shown on picture are not on the preteen dress)




408C - Preteen Empire Dress

Sizes: 10-12-14-16

$ 10.00

410A - Women's Panel Dress


Easy A-line style with princess seams and a gathered front skirt. Side pockets and back ties provides a shapely fit. . About 51" long. Includes both short and long sleeve.




410A - Women's Panel Dress

Sizes: 2-4-6-8-10-12-14-16-18-20-22-24-26- 28

$ 10.00
410E - Preteen Panel Dress




European length dress has princess seams and back ties for shaping. Back zip and side pockets. Includes both short and long sleeve.


410E - Preteen Panel Dress

Sizes: 10-12-14-16

$ 10.00

412D - Women's Petal Sleeve Dress

A romantic sweep of a dress with princess seams, sculpted neckline and side pockets. Also includes an optional short sleeve to change the look. Back ties insure a good fit.

412D - Women's Petal Sleeve Dress

Sizes: 2 - 4 - 6 - 8 - 10 - 12 - 14 - 16 - 18 - 20 - 22 - 24 - 26 - 28

$ 10.00
414A - Women's Natural Waist Dress

Back zip bodice to fall at the natural waist with darts and back ties to provide a custom fit. Plain oval neckline, side seam pockets. About 51" long. Includes both short and long sleeve.

414A - Women's Natural Waist Dress

Sizes: 2-4-6-8-10-12-14-16-18-20-22-24-26-28

$ 10.00

414B - Girls Natural Waist Dress


European length dress with lace-trimmed collar and cuffs. Bodice darts, back zip and tie sash. Includes both short and long sleeve.




414B - Girls Natural Waist Dress

Sizes: 3 - 4 - 5 - 6 - 7 - 8

$ 10.00

414D - Preteen Natural Waist Dress

European length dress with lace-trimmed collar and cuffs. Bodice darts, back zip and tie sash. Includes both short and long sleeve.

414D - Preteen Natural Waist Dress

Sizes: 10 - 12 - 14 - 16

$ 10.00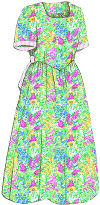 4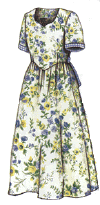 16D - Preteen Sweetheart/Square Neck Dress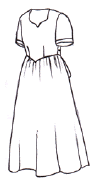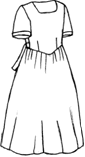 A Basque waist and sweetheart neckline make this a most enchanting dress. Back zipper, waist ties, and hidden side seam pockets. Short and long sleeve option.
Preteen Square Neck Dress - Square neck style dress with a Basque waistline. Sort and long sleeve options.

With the addition of the Square Neck bodice, this pattern makes 2 complete dresses.
416D - Preteen Sweetheart/Square Neck Dress
Sizes: 10 - 12 - 14 - 16
$ 14.00
416E - Women's Square Neck Dress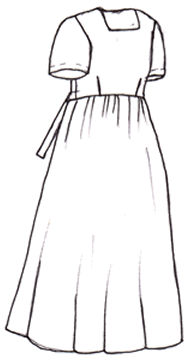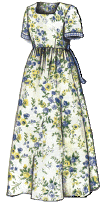 A slightly empire waist adjusts with back ties to insure a good fit. Side pockets and waist darts for shaping. About 51" long. Includes two short sleeve options and long sleeve.
416E - Women's Square Neck Dress
Sizes: 2 - 4 - 6 - 8 - 10 - 12 - 14 - 16 - 18 - 20 - 22 - 24 - 26 - 28
$ 10.00
436D - Women's Shirtwaist Dress

A classic shirtwaist (slight A-line) with tab collar, pockets and tie belt. Includes long and short sleeve options and additional shawl collar option. Cummerbund tie sash included. About 49" long.

436D - Women's Shirtwaist Dress

Sizes: 2 - 4 - 6 - 8 - 10 - 12 - 14 - 16 - 18 - 20 - 22 - 24 - 26 - 28

$ 10.00

438F - Women's Button Front Dress

Darts and back tie shape the bodice. Side pockets. About 51" long. Includes both short and long sleeve.







438F - Women's Button Front Dress

Sizes: 2 - 4 - 6 - 8 - 10 - 12 - 14 - 16 - 18 - 20 - 22 - 24 - 26 - 28

$ 10.00
442A - Women's Sailor Dress

Classic sailor collar accents this slightly empire bodice. Back zip, side pockets, and back tie for shaping. About 51" long. Includes both short and long sleeve.

442A -Women's Sailor Dress

Sizes: 2 - 4 - 6 - 8 - 10 - 12 - 14 - 16 - 18 - 20 - 22 - 24 - 26 - 28

$ 10.00

442B - Girls and Preteen Sailor Dress

High yoke and a classic sailor collar define this European length girls dress. Back zip and side pockets.




442B - Girls and Preteen Sailor Dress

Girls Sizes: 2 - 3 - 4 - 5 - 6 - 7 - 8 - 10 - 12 - 14 - 16

$ 10.00
444A - Women's Lily Embroidered Batiste Dress

A curved Basque waist, a full lining back ties and embroidered elbow length sleeves give this dress a graceful silhouette with an ageless appeal.




444A - Women's Lily Embroidered Batiste Dress

Sizes: 2 - 4 - 6 - 8 - 10 - 12 - 14 - 16 - 18 - 20 - 22 - 24 - 26 - 28

$ 10.00

446B - Women's Shirtwaist Nursing Dress

An innovative idea for this classic shirtwaist dress - the front of the dress can be untucked from side seam to side seam (front only) to discreetly accommodate a nursing baby. A generous triangular lace-trimmed shawl may be an additional option to shelter your nursing baby. Short sleeve or long sleeve, collar and collarless options. Complete button front dress with waistband. Hidden side seam pockets. (Shown with Women's Petticoat pattern available separately)

446B - Women's Shirtwaist Nursing Dress

Sizes: 2 - 4 - 6 - 8 - 10 - 12 - 14 - 16 - 18 - 20 - 22 - 24 - 26 - 28

$ 10.00